Adams's Update for 6/23/16: I can talk a lot so I will try to make this simple. Thank you everyone for the birthday wishes. This was the most monumental and wonderful birthday yet. I told everyone closest to me my goal was to be healthy and ready to go by my birthday. Today was more than a birthday but instead a mile marker on a chaotic journey. I received countless blessings and was shown a love that could never be measured or forgotten. This birthday and New year marks a new beginning and proof that God conquers all. Facebook became my only connection with all of you and I now have more love and respect for everyone and life itself. Stay strong, have faith, love deep and never give up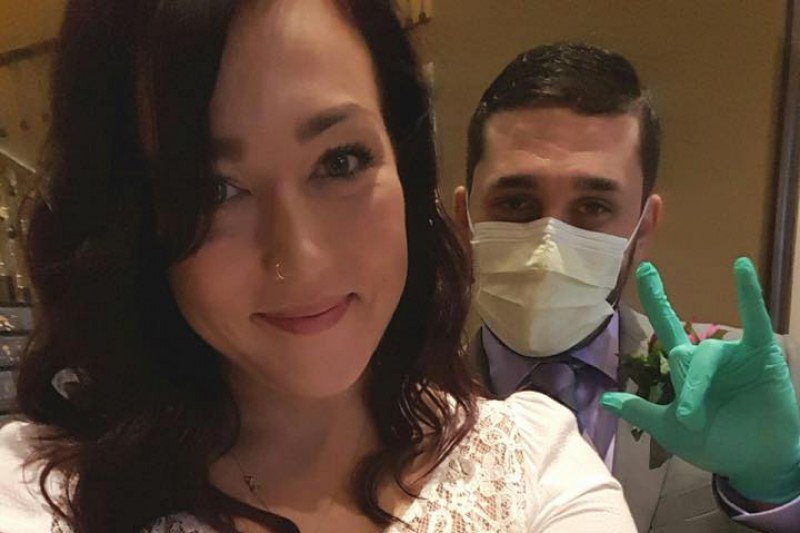 Friday, August 15th started like any other day for Adam Bernd — except not.  He had first noticed some bruising about a week before, and this morning it was worse.  Way worse.  He checked with his mom, who told him to go the the emergency room, but being the Marine he is, he made a doctor's appointment for later that afternoon and went to work.  The VA doc was concerned and drew the first of many, many vials of blood — then sent him home with strict instructions to do nothing that could get him hurt or cut until the labs came back.  Four hours later, on his way to pick up his son for the weekend, he got the call — turn around, pack a bag, and come to the VA Hospital in Louisville.  His platelets were so low that he could bleed to death — 2,000 instead of the normal 150,000 — and they didn't know why.  By 3:00 am, he was being transported by ambulance to University of Louisville Medical Center — a teaching hospital — where a team of medical specialists were already being pulled together to crack this mystery.  Placed in isolation to protect him from even the simplist germs, he has undergone every test imaginable, including bone marrow biopsies, and transfusions.
By Sunday, it was clear that his platelets were not the only thing failing — his red and white counts were critically low — lower than if he had had chemotherapy — but he hasn't.  Hemotologists and oncologists began working together on this medical anomoly — a very sick man who doesn't feel or look sick.  Tuesday night the doctors gave Adam and Miranda the news — he has aplastic anemia, a life-threatening condition that occurs when your body stops producing enough new blood cells.  The doctors are attempting to still answer the 'why' question, because if they can it will help determine the best course of treatment, but this much is clear:  Adam will be in isolation at U of L from now until a bone marrow transplant can be done — and then likely for two months or more.  After he is well enough to finally leave the hospital, he will need to keep himself in semi-isolation at home — possibly for as long as a year.   Life for Adam is morphing by the minute, and by extension the lives of his son, Aden; his love, Miranda; and his parents, sisters and brother and all their significant loves.
You are a friend, or a friend of a friend, and you are asking "How can I help?"  The first thing Adam would ask you to do is pray — he feels your prayers and is determined to praise God throughout this storm.  The second thing is financially.  While it isn't the most important thing right now, it will comfort Adam to know that his bills can be paid until other options can be put into place — and until he fully understands what those options even are.  He just moved into an apartment a week and a half-ago and keeping that lease going may help down the road when he is released, for instance.   His son, Aden, needs to be provided for during these months when Adam will not be working.  In other words, life is expensive and Adam will be comforted and more able to focus on getting well if he doesn't need to concern himself with expenses that he can't possibly pay on his own.
In Ecclesiastes it says:  "Two people are better off than one, for they can help each other succeed.  If one person falls, the other can reach out and help. But someone who falls alone is in real trouble… A person standing alone can be attacked and defeated, but two can stand back-to-back and conquer. Three are even better, for a triple-braided cord is not easily broken."  Please join Adam — in faith, in finances, in fight.  Semper fi.  Peace.