From the use of antibiotics to prevent and treat infections in children with sickle cell disease to the FDA approval of the drug hydroxyurea, researchers have made steady progress during the last few decades in improving the lives of individuals with sickle cell disease. Yet still, a widely available cure has remained just out of reach. Now, work from a team of researchers at the National Institutes of Health, including NHLBI's Dr. John Tisdale may open the door to reversing sickle cell disease in more patients.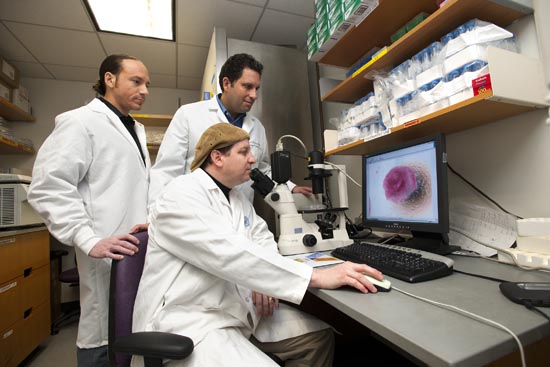 A paper, published last month in the JAMA, by Dr. Tisdale, and other researchers from the NHLBI and the National Institute of Diabetes and Digestive and Kidney Diseases (NIDDK), discussed a new procedure—a modified blood stem cell transplant for severe sickle cell disease—that reversed sickle cell disease in nearly all of the adult patients in the trial. In addition, despite having both donor stem-cells and their own cells in their blood, half of the patients stopped the immunosuppressant medication without experiencing rejection or graft-versus-host disease.
This trial's success suggests a new treatment option for older, sicker patients that are part of a population that hasn't seen a compelling breakthrough in quite some time.
Dr. Tisdale's research is an example of what is so exciting about science. While this work has led to an incredible breakthrough that has the potential of helping a very sick population, it also has provided the research team—and the larger scientific community—with more questions to pursue. For example, his study had a 90 percent success rate. What can they do to increase that number even more? And, as he outlined in the audio clip above, can they find similar success using a donor who is only half-matched on human leukocyte antigen (HLA) antigens, which would open up the doors to curing a much larger portion of this patient population?
Dr. Tisdale and his team also haven't given up on exploring additional scientific avenues toward cures. Though he admits it has been a case of "slow, steady progress," he believes the progress that has been made in the area of gene addition therapy with lentiviral vectors means that gene therapy approaches soon will be in the clinic for patients with sickle cell disease, or at least in clinical trials. He expressed his pleasure at seeing potential cures coming to the forefront as he recalled his internal medicine residency at Vanderbilt Medical Center.  There,  he saw "a number of patients with sickle cell disease coming in and out, and it just seemed like there was nothing. We weren't doing anything except for giving pain medications. And the patients were coming right back because we weren't doing anything to alter their disease course. And it made a lot of sense that a bone marrow transplant would be able to fix that, and I understood the limitations, but didn't understand them to be insurmountable."
Indeed, Dr. Tisdale and his research team have proven that the limitations he saw back then weren't—and aren't—insurmountable. And I, for one, look forward to seeing the next great breakthrough or treatment that they take from concept to reality and patients from painful to pain free and even disease-free.